So you want to know how it works? See how easy it is for you to add the Live Availability Calendar to your Website.
1. If you already have your own website then you are ready to start. You just need to add a link from your website to your Live Availability Calendar. The calendar, prices and availability are all stored in a database on our server.
2. Visitors check availability and prices and click through, just like you did in the Demo to make the booking. You get an e-mail to let you know that a booking has been made, and the Live Availability Calendar is immediately updated to show the dates as a Provisional Booking and the name of the person booking is added to the database.
3. After confirming the booking the visitor is taken through to PayPal to pay the deposit (or full amount is booked within 8 weeks of the start of their holiday). You receive an e-mail from PayPal to let you know the payment has been made (you will need a PayPal account, this is free to setup and we can assist you with this).
4. When you have received the deposit you use the Calendar Admin to update the dates to a Confirmed Booking. At the same time you should send an e-mail to the person who has booked to confirm all the details and give them further information which will help them when planning their stay in your property.
5. When the final payment is due you use the Calendar Admin you send an e-mail to request the final payment (by PayPal).
6. That's it.
If you have any further questions, please check our FAQ or e-mail us direct at office@b15internet.com or call us on 0121 314 6251.
If you are ready to add your own Live Availability Calendar to your website, click here.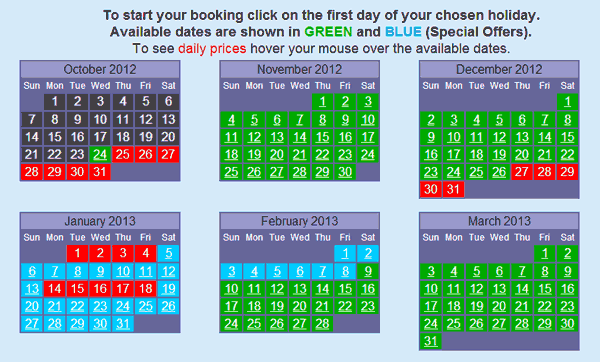 Don't lose bookings - if your visitors don't book while they are looking at your property they are likely to look at other properties. Get the deposit paid and secure the booking at the time.